"Mhalo" the traditional name used for Goa's barber, would probably bring memories to most Goan's. Today with more professional approaches to the business, this traditional name has been replaced as hair stylist. Here is the story of one such "Mhalo" of Arabo (A village in Pernem taluka), Mahadev Bala Navelkar  from the traditional occupation of 'Mhalepon' who has been in this profession for close to 60 years.
Mahadev Bala Navelkar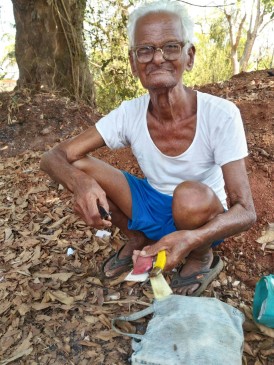 Recalling his first day at work, 84 years Mahadev says "I got together my barber kit and sat down under a jackfruit tree near my house, when my first Giraik (customer) came he held the mirror in hand while I cut his hair and I was paid 1anna ( 6 paise) and for a shave 2 paise". However people like Brahmins (priest), Desai's, Bhatkar of village(landlord), Bamon's (higher caste Bhatkar), Wani (business family) used to call him at their residence to cut their hair or for a shave. Their house verandah would serve as a convenient seating arrangement as they would follow some of their traditional rituals and customs.
Gradually in 1963 he opened a shop at Arabo, the land donated by the Desai's, appreciating his occupation. Mahadev recalls of how his profession supported him and even helped him to get his three sisters married besides support his family and children.
A normal day for Mahadev would start by opening his barber's shop at 8 o'clock in the morning and end close to 7 in the evening with a short lunch break and would never miss out on his clients who asked him to come home.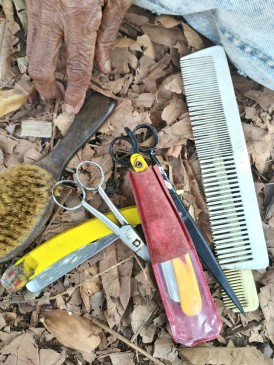 Mahadev even today has safely kept his  barber's kit which includes traditional tools like 'Vakor' (razor) which was sharpened  on the  'Sheli' ( type of stone ) using oil and then fine leveling was done with help of  a leather belt. A scissors, comb , powder and brush would also be a part of his kit. He would use soap as shaving foam leather and the "Fodki"(alum stone), after each shave,  which served as a disinfectant on the cuts or avoid allergy . The 'Vakor' was cleaned using Dettol (disinfectant brand). One thing he always stressed on was hygiene which was probably the reason the customers would prefer him.  Mahadev fondly remembers the ' English' hairstyle followed by most villagers during his days. The Mahadev says that the pleasure and satisfaction was the support he received from his customers whenever he required any help and not in the money or tips he would receive.
Although the "Mhalo" might not be seen or even used to address a hair stylist in recent times,  some of the customs and traditions have kept this alive. The traditional "Mhalo' is always used in the  Hindu 'Haldi' ceremony which happens at the time of marriage where the groom's hair is cut to which marks the beginning of the ceremony.
---